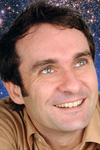 It won't come as much surprise that in a show that condenses the entirety of recorded human history into an hour, there's rather a lot going on.
Gordon Southern adds to the action by chucking PowerPoint slides, musical stings, two-line raps and a smidgeon of audience participation into the rich mix. Topics with vast potential for gags, from the Roman Empire to European colonialism, are each dismissed in a couple of minutes.
The content is necessarily superficial – an adjective which could just as equally apply to Southern's jokes. For the pace of the show, the need for him to enthusiastic, driven and upbeat far outweighs the necessity for beautifully crafted gags –and that, indeed, is how it pans out.
From showing an images of a Mutant Ninja Turtle when he mentions Leonardo Da Vinci to imagining great warlords clashing in pay-per-view boxing matches, the writing is funny enough – rarely more or less – even when it needs to deploy stereotypes to keep the speed up.
That said, a couple of more inventive moments stand out, especially the idea running the World Wars backwards to give them happier ending. But even if you don't like one segment, it won't be long until the next one.
Southern's eminently charming and good-natured and makes for a jaunty, confident guide through his sprawling subject, and like an accomplished plate-spinner keeps several running gags aloft – from facts that might not be true to cheeky jibes at a couple of members of the audience packed into this tiny space.
It all makes for a feelgood hour that fair flies by, in contrast to so many festival shows. You won't learn anything, it won't change your life, you won't come away with jokes to tell at the water cooler, but you'll probably have fun.