---
Hi there. I'm Gordon and here's my one-stop shop for gig info, where I am on the Fringe and Comedy Festival Merry-Go-Round and other bit and bobs, videos and pictures, and the trophy cabinet.
"A Brief History of History" is back! Nominated for best show in Perth, New Zealand and Edinburgh…
October 20th Museum of South Australia 6.30pm
Get Tix here:  SELLING FAST. https://tinyurl.com/y3s2n2hn
October 28th Geelong Comedy Festival  5.30pm
Get Tix Here https://geelongcomedyfestival.com.au/gordon-southern
2023 "ON THE ROAD AGAIN" Brand new show for Adelaide Fringe MARCH and Melbourne International Comedy Festival APRIL
Get Melbourne tickets HERE: https://tinyurl.com/29xue77z
FOUR STARS from the Upshot, Adelaide 2023 https://adelaidefringe.com.au/fringefeed/critic_reviews/3189
PREVIOUS SHOWS:
"WAITING FOR GORDO"   Award winning comedy Finally coming to Perth Fringe World in 2023
"WAITING FOR GORDO" Melbourne International Comedy Festival  @Elephant and Wheelbarrow, Bourke St. 30th March- April 24th  7.15pm GET TIX HERE:
2022 new show alert "THE LONGEST YEAR" coming to Adelaide Fringe.  March 1-12  @Howling Owl 7.30pm
FOUR STARS from the Adelaide Advertiser 2/3/22
"…Fresh and relatable, his upbeat energy produces an energetic and playful performance, which provides audiences with plenty of laughter, astoundment and unavoidable smiles."
SA BANK WEEKLY COMEDY AWARD WINNER ADELAIDE FRINGE
Encore performances of "THAT BOY NEEDS THERAPY" Adelaide Fringe @Goodwood institute Feb 26th 6.30 Mercury Cinema March 5-6 4pm
FOUR STARS from Stage Whispers 28/2/22
"great stand-up storytelling"
Fringe On Tour 2022: "ADELAIDE FRINGE COMEDY SUPERSTARS" Coming to the regions of South Australia. Sunday Feb 27th Victa Cinema Victor Harbor with  Kevin Kropinyeri. Sunday March 13th Waikerie Football club with Kel Balnaves  Friday 25th March Mount Gambier TBC Get Tix here:
Gordon Southern – On The Road Again MICF flyer front latest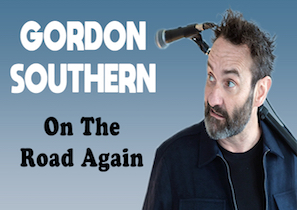 Encore performances of "THAT BOY NEEDS THERAPY" Good Chat Brisbane Nov 3rd
SolBar, Sunshine Coast Comedy Festival Nov 14th
Brand new show "NISOLATION" PERTH-ADELAIDE-MELBOURNE-PORT LINCOLN 2021
Adelaide Fringe 2021  Feb 19 – March 6.
SOLD OUT SHOWS!
coming to Perth Fringe Jan 20-31st. SOLD OUT!
read the 4.5 star reviews here: https://agentmysterycase.com/2021/01/nisolation-gordon-southern.html
and here: https://fringeworld.com.au/fringefeed/critic_reviews/949
EAST END CELLARS SHOW "GORDON SOUTHERN AND FRIENDS" OCT 26TH was SOLD OUT!
LOCK DOWN EASED IN AUGUST… here's a video I made with Jason Chong . 8K+ views already!
LOCKED DOWN SLIGHTLY LESS! I did a podcast with brilliant Adelaide comedian Jon Brooks – Listen here.
LOCKED DOWN! Stuck in Adelaide with no gigs so…here's a little fun for you… https://tinyurl.com/y74l6kqc
---
He's know as the the International Word Clown (by himself)  
Bespoke comedy regularly performed in: ABU DHABI, ADELAIDE, AMSTERDAM, AUCKLAND, BANGKOK, BRISBANE, BRATISLAVA, BUDAPEST, CYPRUS, DUBAI, DUBLIN, EGYPT, HOBART, HONG KONG, JAKARTA, JOHANNESBURG, KUALA LUMPUR, MELBOURNE, MERIBEL, MUMBAI, PARIS, PERTH, PRAGUE, QATAR, SINGAPORE, SHANGHAI, SUNSHINE COAST, SYDNEY, SINGAPORE, WELLINGTON, ZURICH …AND THE UK

CLICK  HERE TO SEE THE GIG DATES